1990s Bart Simpson Ban Inspires Bart's Homemade T-Shirts
Ahh yes, the great Bart Simpson ban. Remember? It all started in 1990, at Lutz Elementary School in Fremont, Ohio. Principal William Krumnow delivered a ban on T-shirts featuring Bart Simpson, the rebellious breakout star of The Simpsons.
Naturally, this Bart Ban made everybody want the T-shirt even more. Silly adults.
Although the ban initially called out a T-shirt featuring Bart aiming a slingshot with the word underachiever emblazoned in quotes above him and Bart saying, "and proud of it, man!" - the Barton Simpson T-shirt ban spread like wildfire in schools. Everything from "Eat My Shorts" to "Get Bent" was out.
They all "had a cow, man".
District administrators in Florida, California, Michigan, Illinois, and Washington, D.C. quickly began cracking down on the surge in Bart shirts, fearing he was the wrong kind of role model for kids to emulate.
This Bart Simpson Ban shit got so crazy that we're still seeing a few of the original 1989 Bart Simpson t-shirt designs for sale online. They'll typically start around 500 dkr and go up from there. 
This T-shirt from our Webshop is from a release by, at that time FOX owned Simpsons Merch in 2010, celebrating their heritage, we probably won't see more of this style now that Disney have bought all rights! ;)
You'll know it's an original if it sports the blue Bart Simpson T-shirt Fox used when they rushed merchandise to market. Yeah, if you didn't know, there are loads of conspiracy theories out there as to why Bart Simpson merch didn't match the show at the time. Now, folks are replicating the original Bart Simpson Underachiever T-shirt and marking it way down. So keep an eye out.
Despite all the hubbub, an estimated 15 million Bart shirts were sold in 1990 alone. Even today Bart is still one of the most iconic figures around the globe.
This is why we think that the Bart Ban may have fueled a fun little Simpson's episode in 2004 "Fat Man And A Little Boy" where Bart begins writing his feelings and thoughts on homemade T-shirts and selling them.
Naturally, this little hellion had some hilarious T-shirt ideas.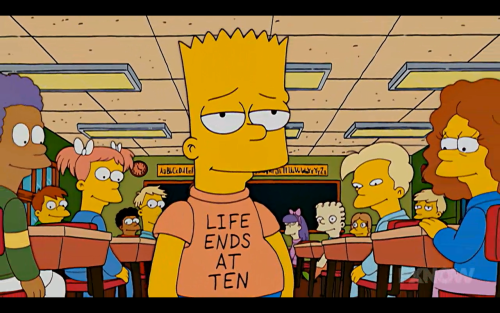 Gotta love that smug little face. 😂
Demand for Bart's homemade T-shirts took hold in Springfield fast, leading Bart to selling T-Shirts in his front lawn.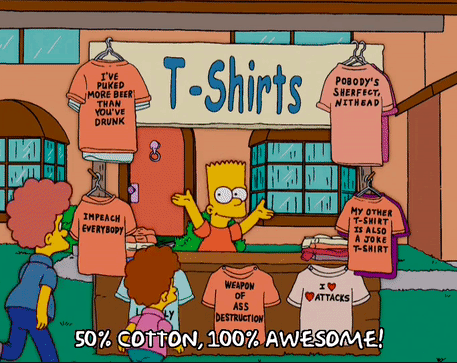 Of course, Bart's T-shirt business is going great until the police confiscate them because he doesn't have a license.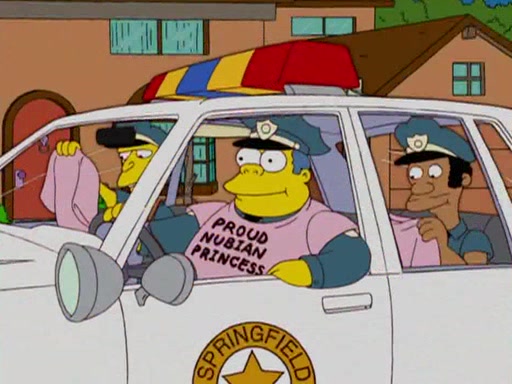 So, Bart takes his shirts to a retailer's show in order to get a license, but his display is destroyed by Krusty the Clown's massive stand, which sells Itchy & Scratchy T-shirts.
Poor, Bart.
However, it is then Bart runs unto Goose Gladwell, a Willy Wonka-type salesman who sells weird items. Gladwell looks at Bart's homemade T-shirts and decides to sell them in most of his 20 stores.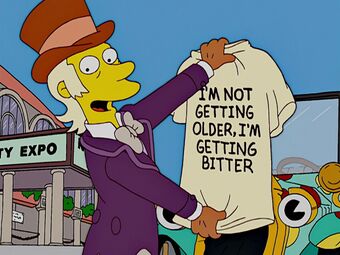 Naturally, Gladwell sells the rights to Bart's homemade T-shirts from under him to The Walt Disney Company so they can make his shirts into movies - Bart gets nothing. This is when Homer comes to Bart's aid and threatens to detonate his nuclear reactor and destroy the whole tri-city area if Goose does not give Bart what he deserves.
Homer wins. Don't we all love when Homer finally wins one?
Overall, The Simpsons episode "Fat Man and A little Boy" is a gem and likely a comment on licensing. Bart's experience and story makes it for obvious reasons our all time favorite episode.
Apparently Simpson's creators and animators are T-shirt fans, or at least they understand a good T-Shirt opportunity when they see one.MEGA FANS of the show May remember the following:
First, here's Homer's "Fat Pride" T-shirt in The Simpsons episode "Sweet and Sour Marge."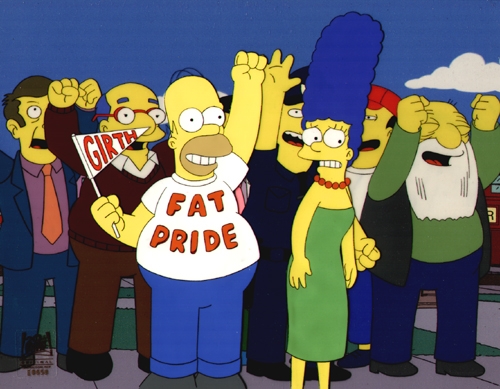 Also, your gotta love Homer's "Who Fat?" T-Shirt from "Lisa Gets The Blues"!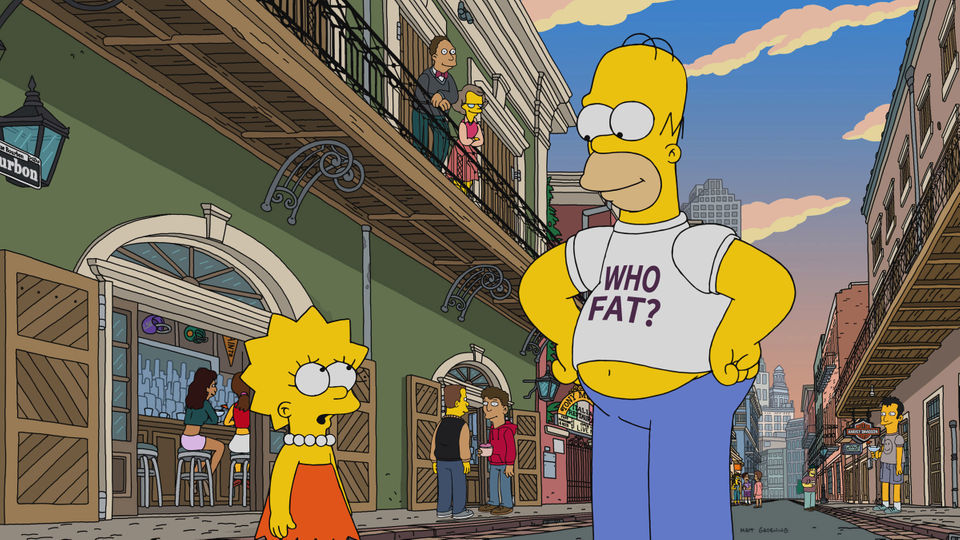 Plus, who can forget Lenny's 1970s "Bull Shirt" T-shirt?